Welcome to Terrace Soul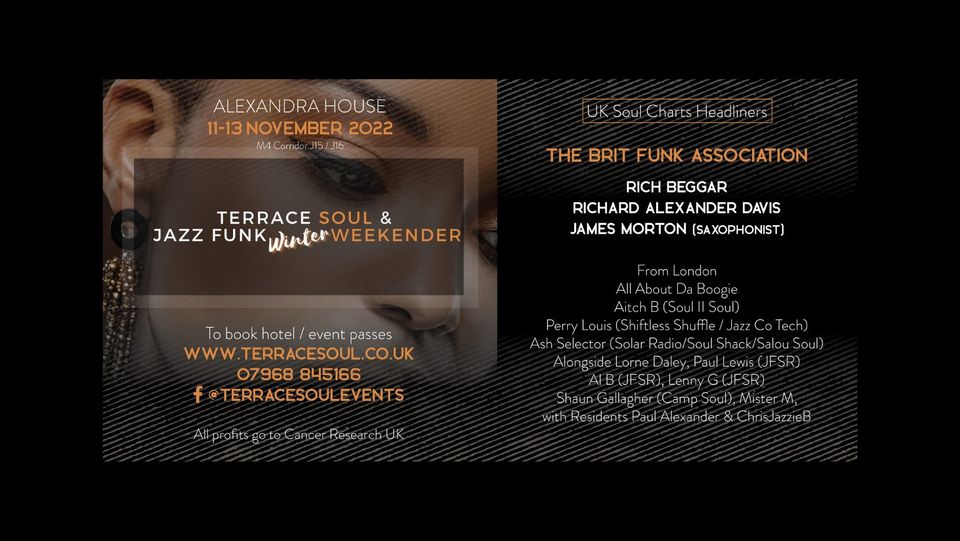 The Terrace SOUL & Jazz Funk Winter WEEKENDER is brought to you by the same award winning team voted The Top Soul Club Night outside of London. All profits are being donated to Cancer Research UK.
Inspired by the soulful daytime vibes of The Beach Clubs of Ibiza ,Paul Alexander launched Terrace Soul in 2019 since which time succesful daytime events have been hosted in the UK at Bambalan Roof Top Terrace , LoLounge-Cardiff Bay , Klosterhous and Crown Plaza Stratford Upon Avon . In 2021 Terrace Soul Paul Alexander and ChrisJazzieB played Sun & Soul Cyprus and are returning there in 2022 .
The success of Soultrain Ibiza in 2016 / 2017 and Tenerife in 2020 was curtailed in 2021/22 due to covid, for this reason Paul & Chris are launching a Soul & Jazz Funk Weekender based in the West of the UK within easy reach of London, Newbury , Reading , Bristol , Gloucester , Oxford , and South Wales set in 20 acres of Landscaped grounds of the Stylish Contemporary Alexandra House just off the M4 in Wiltshire , a modern 4 Star contemporary Hotel boasting 152 en-suite bedrooms with impressive leisure facilities comprising of heated swimming pool , steam room and spa pool and gym . Alexandra House is a a Venue Collection/Portfolio Hotel which won team of the year at The 2021 M&IT Travel Industry Awards
We invite you to start your weekend off on The Friday Evening Welcome Party which Paul Alexander and ChrisJazzieB will be hosting and curating playing modern contemporary soul.
Saturday / Sunday Morning enjoy the Hotel leisure facilities or beautiful country walks around nearby Barbury Castle or zip off to nearby Designer Villages at Swindon or Bicester.
Saturday Afternoon and Sunday afternoon will are looking to host Jazz Funk sessions with Jazz Dancers from all over the UK.
If you like your 70's & 80's Soul , Funk , Jazz Funk & Club Classics Saturday Evening promises to be something really special with dinner followed by a UK Soul Chart recording artiste then you party until 2am with Terrace Soul resident DJ's and guests.
Sunday Evening closing party will be a more chilled affair to wind your weekend down
Event Passes
Event Tickets First Release costs £60 Friday , Saturday , Sunday no booking fee or £40 Friday / Saturday only.
HOW TO BOOK EVENT PASSES
Click here to complete our online form and a member of our Terrace Soul Team will be in contact with you within 24 hours.
EARLY BIRD Hotel rates – ALL include access to swimming pool, spa and gym.
Friday & Saturday – Dinner, Bed & Breakfast – £170.00 Single occupancy
Friday & Saturday nights – Dinner, Bed & Breakfast – £240.00 Double occupancy
Click here to book 2 Nights Double Occupancy
Saturday only – Dinner, Bed & Breakfast – £105.00 Single occupancy
Saturday only – Dinner, Bed & Breakfast – £150.00 Double occupancy
Click here to book 1 Night Double Occupancy
Sunday only – Bed & Breakfast – £50.00 Single occupancy
Sunday only – Bed & Breakfast – £60.00 Double occupancy
---
How To Contact Us:
Facebook : Click to like our page
e mail: paulalexander@terracesoul.co.uk
Instagram paulalexanderterracesoul
Twitter @PaulAle71024842
Telephone 07968845166 or 07729034479
Terrace Soul Ltd Company Registration 13663454 Registered Trademark UK 00003696765